CHRISTOPHER PAYNE
FAMOUS BATAVIANS & THEIR IMPACT ON BATAVIA
Learn about some of Batavia's famous citizens, and some of the famous people that left their mark on this town on the Fox River.
Above are a few of the famous people that have graced the town of Batavia. Click on their names to learn more.
CHRISTOPHER PAYNE
Christopher Payne was born in Pennsylvania in 1786. When he was 14 years old, his family moved to Ohio. Later he fought in the Indian Wars of 1812 in Indiana.
Christopher came to Naperville by oxen cart in the spring of 1831 with his wife, Elizabeth and their seven children.
The first settlers there, Joseph and John Naper, had brought part of the mill with them, but needed a dam for water power to run their saws. They asked Christopher to build it for them. He did it by laying logs in the water and putting stones on top of them to keep them from floating away. He then covered the stones with dirt and used straw to hold the dirt in place.
Christopher then made grinding stones from boulders and designed gears to turn the stones. Oxen were hooked to a harness; and as they walked in a circle, they turned the gears that caused the stones to rub against each other. The grain between the stones was crushed into flour.
Christopher first came to Big Woods in the summer of 1832. He followed an Indian path that had once been a buffalo trail. Because of the hostilities of the Black Hawk War, he did not stay for fear he might be in harm's way.
Following the war in June 1833, he returned to Big Woods, built a cabin and planted potatoes. In September, he went back to Naperville for his family. They spent about two years in Big Woods before they moved on to Belvidere and then to Wisconsin.
Mrs. Payne died in 1869, and Christopher in 1871. He was 85 years old. They are buried in Wisconsin.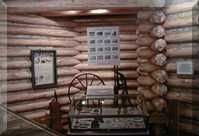 Cabin Display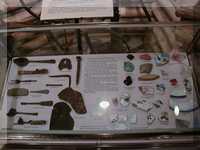 Cabin Site Artifacts