FOUNDRIES
LEARN ABOUT THE HISTORY OF BATAVIA INDUSTRIES
Nearly from its beginning, Batavia was an industrial city. Farm implement and windmill factories provided employment for many. The first products manufactured in Batavia (flour, ice, lumber, paper, stone) found markets in Chicago.
Batavia's significant industries are identified with the following Categories. Click any category from the menu above for the history and involvement of companies from Batavia.
BATAVIA FOUNDRIES
Like those of the windmill companies, the products of the Lindgren Foundry Company went to all parts United States and many parts of the world.
In January 1920, Erick Lindgren, who had started in the gray iron foundry business in Chicago bought property bounded by First, Mallory, and Main Streets in Batavia on which to begin a foundry. His sons, Clarence and Chester joined their father.
On the night of September 7, 1920, just a few months after the start of business, the plant was destroyed by fire. Erick and his sons immediately raised funds to rebuild; and by May 1921, the foundry was again pouring castings for an increasing number of customers and acquiring a monumental number of patterns belonging to their customers. In spite of a poor business climate elsewhere, the Lindgrens were busy.
The company developed an expertise for extremely large gray iron castings. After they had collected a large number of patterns for their customers, they added a storage building on the west side of Mallory Street. This building and the patterns burned in July 1953.
Lindgren Foundry employed a number of Batavians, but the company was not completely loved. The process by which castings were made resulted in a quantity of residues that blew out of the company's smokestacks at night and covered the city with soot. The company worked to remedy the situation and continued to operate for many years. The last of the family's involvement in the company was in 1964.
Today, the company operates as Master Cast, Inc.
The Batavia Foundry and Machine Company, also known as The Brass Foundry or Peterson's Foundry, is located at 717 First Street. It specializes in non-ferrous metal casting, mostly brass, bronze, and aluminum. The company's castings are found all over the world.
In April 1907, The Stuttle Brass Manufacturing Company was formed for the purpose of manufacturing brass and other metal castings. Henry Stuttle apparently operated a foundry prior to this time because his investment consisted of materials, equipment and supplies used only in the foundry business.
The company continued until the early 1920s, when it began operating as the Batavia Foundry and Machine Company. Arvid H. Peterson and Carl S. Swan began working as partners in the manufacture of casting brass, bronze, aluminum and other non-ferrous metals at that time.
In 1956, Swan sold his half of the business to Harold and Robert Peterson, Arvid's sons.
The oldest industry in operation in Batavia is the C. W. Shumway and Sons foundry. It has been producting for more than 125 years.
In 1872, C. W. Shumway sold his tin shop and hardware store on the corner of Batavia Avenue and First Street to begin the foundry. The year before, Chicago suffered its disastrous fire and needed all kinds of iron castings to reconstruct its buildings and machinery, and Charles saw a need.
Shumway took as his partner A. N. Merrill, who had started a small foundry in 1867 but had been bought out by D. R. Sperry in 1869. In 1875, Merrill retired and Charles Osgood took his place. The firm was then known as the Osgood and Shumway Foundry Co.
In January 1887, Osgood died; and Joseph H. Bishop became the partner, leaving the company some time before 1891.
That year C. W. took his oldest son, H. G. Shumway in as a partner, to be followed in 1904 by his second son, Robert. From then on, the firm has been known as C. W. Shumway & Sons.
Charles W. died in 1913. In 1945, H. G. Shumway passed on; and in 1957 Robert died. The next generation of sons took charge, and the company is still owned by the family. It is located on Shumway Avenue, so named in recent years to honor the company.
The kinds of castings molded by the company have varied through the years. At first, it was mainly iron pillars used in building construction. In 1895, it began making castings for hot air furnaces, hot water heaters, sewing machines, and miscellaneous other machines. In 1920, they were still making many of these same castings, but they were also making ventilators, laundry tank heaters, cistern covers, chimney clean-out doors, grates, etc.
D. R. Sperry Company was organized by D. R. Sperry and A. N Merrill in 1868 and incorporated in 1876, with Sperry as president. This foundry was first located at the corner of Wilson and Water Streets in Batavia but moved to North Aurora in 1881. It continued to carry a Batavia address for many years after that. Originally, the company manufactured a line of farm boilers, kettles, and cookware.
Additions were made to the plant as business increased. Filter presses were the chief output of the company in 1933.
D. R. Sperry and Company had several periods of distress. It burned in 1885 and again in 1903, and was damaged by a flood in 1887. The 1885 fire completely destroyed the wood plant. A new foundry and machine shop went up immediately.
After a three-day rain in February 1887, the Fox River rose higher than had ever been recorded, and the ice in the river broke up in large blocks. Great damage was done to the Sperry plant.
In April 1903, the plant was again destroyed by fire. Rebuilding began immediately, and by September, the plant was ready to begin operations. This time the building was made of bricks.
The company continues to grow and manufactures iron molds and heavy metal products in its plant along the east side of the Fox River in North Aurora.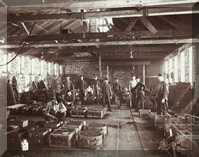 Shop Area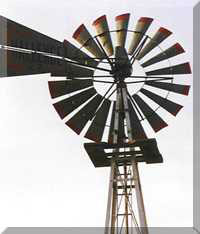 Challenge Mill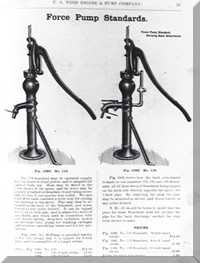 Cast Pumps by U.S. Wind Engine & Pump Co.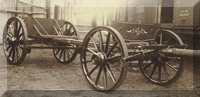 Newton Wagon Chassis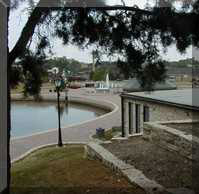 View East from the Depot Museum