Visit the Batavia Depot Museum
RESEARCH CENTER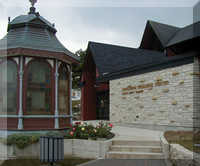 Gustafson Research Center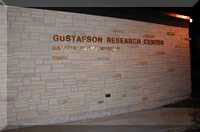 Evening View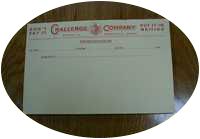 Challenge Company Memo Form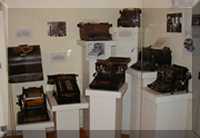 Office Machines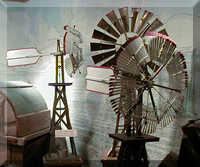 Windmill Samples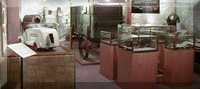 Little Town Display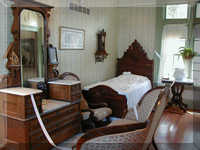 Lincoln Room
THE GUSTAFSON RESEARCH CENTER
In the spring of 1998, a long-range planning committee was appointed by the Historical Society's Board of Directors to investigate space requirements and solutions. The committee recognized that one of the greatest needs was a place in which the large collection of historical documents that the society has collected could be stored and made accessible to researchers.
Funding from the following agencies supported the completion of the addition to house the new research center: Department of Natural Resources Capital Project Grant, Batavia Historical Society, Batavia Park District and the Kane County Victoria Riverboat Fund. The research center was dedicated in June 2000.
The name Gustafson Research Center was chosen to honor John Gustafson and his brothers and sisters who were the first to see the vision of a viable historical society and who began gathering artifacts and cataloging them to preserve Batavia's heritage.
COLLECTIONS AT THE GUSTAFSON RESEARCH CENTER
The mission of the Batavia Depot Museum is "Through collecting, preserving, interpreting and exhibiting the history of Batavia, the Batavia Depot Museum memorializes the accomplishments of Batavians while enriching public knowledge and creating leisure and educational opportunities for the community. "
The following materials are available for researchers to use to study the history of Batavia or a Batavia family.
The Batavia Historian
The newsletter of the historical society. Issues are available for the years 1960-2000. Indexed
Bethany Lutheran Church Records
(Microfilm) History of Church, Family Information.
Biographical file with over 800 family histories
Books, papers, photographs, and museum displays about Batavia history, including Military, School, Churches, Clubs and Organizations, Businesses and Industries, Bernard Cigrand and Flag Day, Special Events, Athletic Groups, Medical, Miscellaneous Topics
Circuit Court Records for Batavia and Batavia Township 1860-1960. Original. Indexed
City Directories
Assorted years. Earliest is 1857
Batavia City Directory, 1859-60
Civil War Histories
Books and letters from soldiers Family Diaries and Histories, including Newton genalogy and Papers, and others. Miscellaneous family trees.
Fermilab History
Index of 50 scrapbooks.
Miscellaneous newspaper clippings. 1900-1995. Contains many obituaries, wedding announcements, wedding anniversaries, and profiles of servicemen during World War II.
Kane County History, including other county cities
Kane County Census Records
(Federal) -some indexes and all microfilm from 1840 to 1920
Kane County Marriages Indexes 1840-1900
Lincoln, Abraham and Mary Todd assorted materials. Some records of Mary's stay at Bellevue. Other Bellevue information.
Microfilm of Indexes of Kane County Genealogical Society
These are name indexes of data bases compiled by the KCGS
Microfilm of Illinois Census 1855 and 1865
Probate Records for Batavia and Batavia Township.
1860-1960. Original. Indexed
Railroad History
Books and miscellaneous pamphlets and documents
Structure History Miscellaneous records of business buildings and residences in the city. Some abstracts
Township and City documents Assorted miscellaneous
Telephone Directories City phone directories for various years particularly the 1920s and assorted others
Windmill Herald (Batavia Newspaper)
Microfilm and CD (Indexed) July 1982-August 1998
Windmill History Books, catalogs, advertisements, and miscellaneous information about the big three manufacturers, Appleton Company, Challenge Company, U. S. Wind Engine and Pump Company