MARY TODD LINCOLN
FAMOUS BATAVIANS & THEIR IMPACT ON BATAVIA
Learn about some of Batavia's famous citizens, and some of the famous people that left their mark on this town on the Fox River.
Above are a few of the famous people that have graced the town of Batavia. Click on their names to learn more.
MARY TODD LINCOLN
& BELLEVUE PLACE
Bellevue Place was established in an abandoned private high school known as Batavia Institute by Dr. Richard J. Patterson, a renowned expert in the field of mental health. Patterson was one of the first to believe that peace, quiet, and gentleness were beneficial to the cure of those who were mentally ill.
He purchased the old school and made it into a sanitarium for disturbed ladies. Dr. Patterson's wife was the matron, and there were a dozen attendants and nurses on staff. Patterson furnished the old school rooms with carved beds, huge ornate chests, and other furniture and renamed it Bellevue Place.
In 1871, he added the two-story wings with the mansard roofs. He could then increase his patient load to 25-30 women at one time in the home.
Orchards and a vegetable garden provided a fresh supply of in season food for the institution. Around the grounds were flower beds, hammocks and lawn seats, which spoke of outdoor life and freedom.
In 1875, a Chicago court deemed that Mrs. Lincoln behaved irrationally. It was ordered that she be placed in a mental hospital. Her son Robert brought her to Batavia on the train to Dr. Patterson's sanitarium.
If the legends of Mary's stay are correct, she was not very confined. She is said to have visited in several of the homes around Bellevue, to have eaten her meals with Dr. and Mrs. Patterson, and to have visited friends in St. Charles.
The third floor of the sanitarium housed the most serious cases, and the first floor was the most desirable and thus most expensive. Mrs. Lincoln stayed on the second floor. Her estate was charged $10 a day for her room.
The need for Mrs. Lincoln's continued confinement was debated on the national scene and after three months, and against Dr. Patterson's advise, Mrs. Lincoln was released in the care of her sister, Mrs. Elizabeth Edwards in Springfield.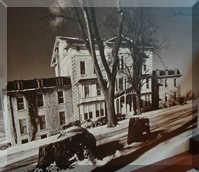 Bellevue Place Photo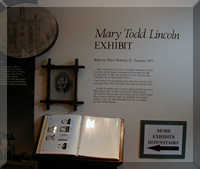 Story of Mary Todd Lincoln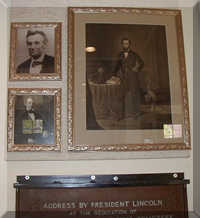 Lincoln Items