COSMETICS
LEARN ABOUT THE HISTORY OF BATAVIA INDUSTRIES
Nearly from its beginning, Batavia was an industrial city. Farm implement and windmill factories provided employment for many. The first products manufactured in Batavia (flour, ice, lumber, paper, stone) found markets in Chicago.
Batavia's significant industries are identified with the following Categories. Click any category from the menu above for the history and involvement of companies from Batavia.
COSMETICS
The Campana Company began business in 1927. The imposing building at the northwest corner of Fabyan Parkway and Rt. 31 was built to house the Corporation in 1937. In it was manufactured the popular product, Italian Balm, a hand lotion and a number of other feminine products. During World War II, when Italy was an enemy of the United States, Ernest Oswalt, the company's founder, changed the name of his balm to Campana Balm after the Canadian doctor from whom he had purchased the formula.
The unique Campana Building, designed by architects Frank D. Chase and William James Smith, is an all-steel frame building with glass blocks and bricks used extensively in the design. Inside the lobby are Deco bathing ladies that can be seen through the second-level windows. The Campana Tower is a landmark in the valley and encases a 45,000 gallon water tank used for water circulation for air conditioning and fire sprinklers.
In June 1962, Campana Corporation became a member of the Purex Corporation of California, a subsidiary of Allied Laboratories. In 1960, Allied merged with Dow Chemical Company. The company's products continued to be made in Batavia until operations were eventually moved to other facilities out of state.
Ernest Oswalt was one of the first entrepreneurs to see the value of media advertising. He used newspapers, magazines, billboards, and radio to get his message out. Oswalt hired Florence Ward, a fiction writer who lived in Batavia, to write radio scripts for the company's famous "First Nighter" radio program. Italian Balm was introduced nationally through this show. The program was a fixture on radio in American homes for twenty-two years.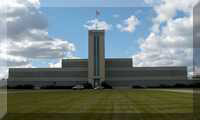 Campana Company

Sorry Folks, Campana Products are no longer produced. We believe the products were discontinued in the early 1960's